Throughout history, women have often found themselves compelled to leave their countries of origin, driven by a range of factors such as poverty, conflict, persecution, and other circumstances that jeopardize their safety and well-being.
Women migrants face unique vulnerabilities that stem from the stressors associated with migration, often leading to mental health distress.
This topic is often overlooked but critical: therefore, we decided to organize a webinar where we'll delve into the unique challenges faced by immigrant women and explore strategies to support their well-being and resilience.
We aim at shedding light on their experiences, foster empathy, equip participants with practical tools to make a positive impact and contribute to creating a more inclusive and supportive society.
The webinar is directed to those who work directly with immigrant communities, are an immigrant themselves, or simply care about mental health equity.
PANELISTS
BHUMIKA INDULIA – Mental Health Series Pioneer, SCC Online, Associate Editor, EBC Publishing Pvt. Ltd.
JYOTI SINGH – Retired Army Officer, Mental Health Advocate and Author
STEFANO LONGO – Servant Leadership, Trainer & Mentor, Brainfitness Partner
RADHIKA BISHWAJIT DUBEY – Mental Health Advocate, Senior Panel Counsel, Union of India, Former Partner, Dispute Resolution, Cyril Amarchand Mangaldas
MODERATOR
POOJA TIWARI – Vice President, WICCI India-Italy, Business Council, Research Analyst, Kearney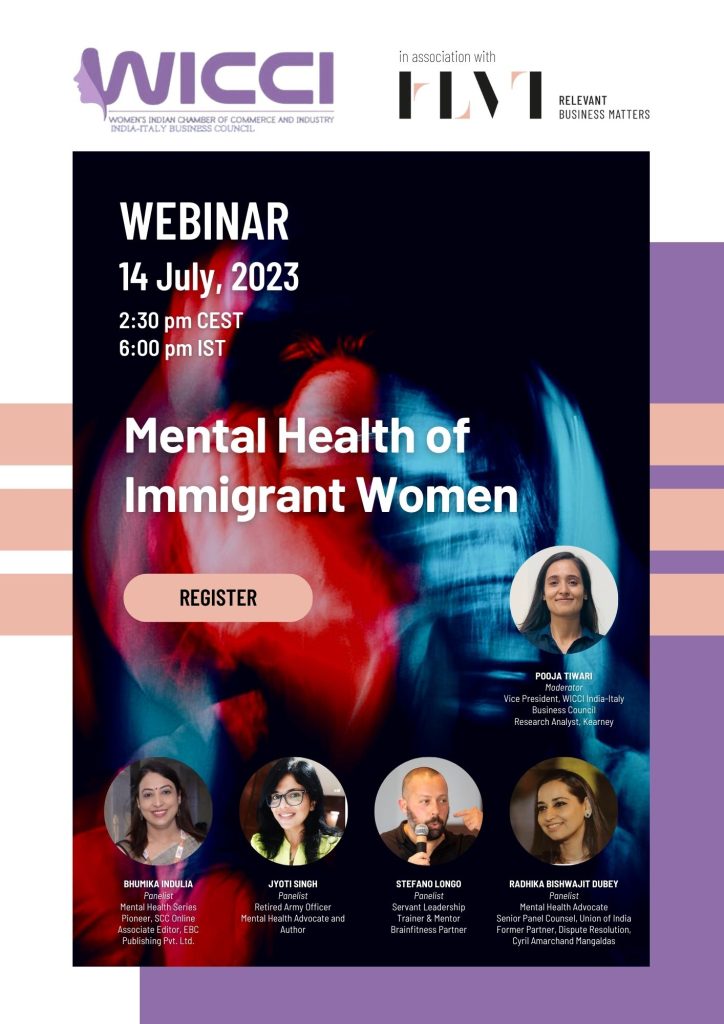 ---